Jax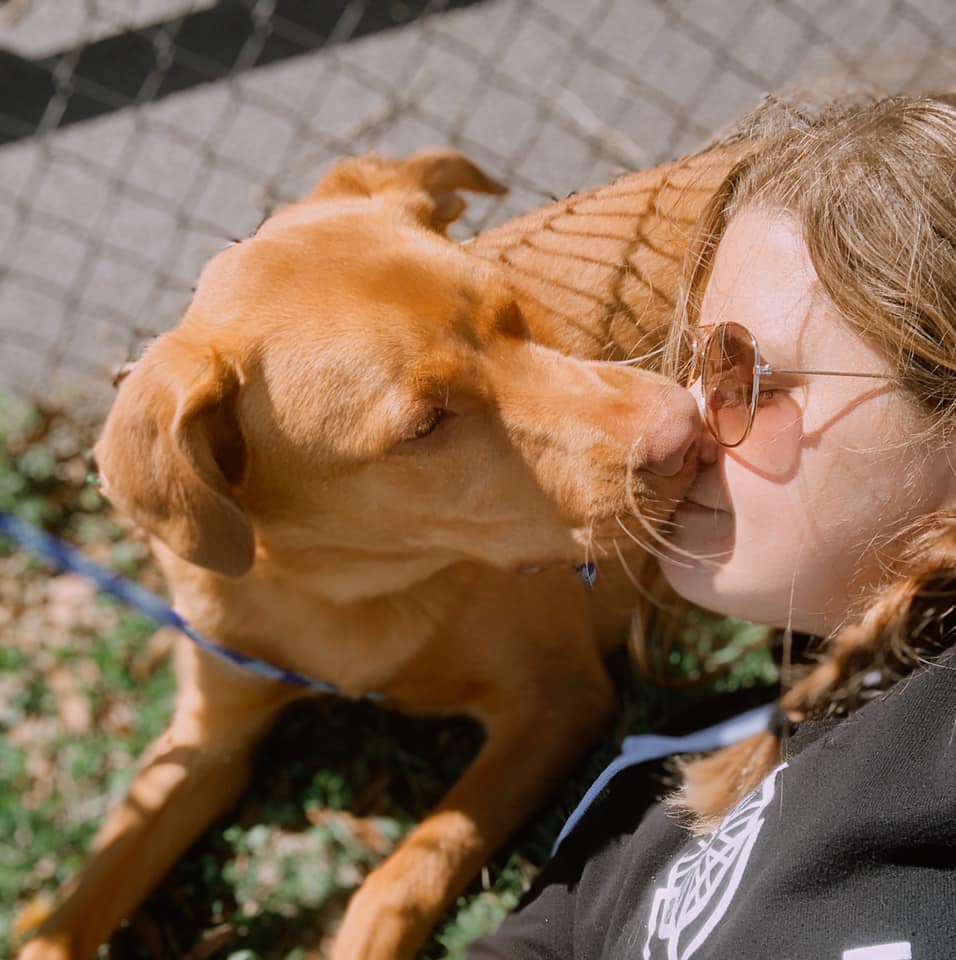 I took my 10 month old Rottweiler/German Shepherd mix to Gabby with Julie's K9 Academy – Dog Training and it's the best decision I ever made for my dog and my family! I was hesitant for a couple reasons….it's two weeks I had to leave my dog, it's an investment and I wasn't sure he was actually trainable, lol! I was SHOCKED to see all that was accomplished it just two weeks. They are constantly posting updates on Facebook and instagram which is so great since you can't actually BE with your dog. They will only take a limited amount of dogs at one time so that they can ensure proper time with your dog. The team LOVES on your dogs like they are their own. When I left to take him home, Gabby was nearly in tears. The create such a sweet bond with your dog ❤.⁣
⁣
I was also nervous because as much as I knew he needed training, I was worried he would lose his silliness and personality that I'm in love with. I've been so happy to find that when I have him "in command" he's calm, listens, follows directions and then as soon as I take him out of command, he's back to being silly and his normal self again. As soon as he gets too wild, I can easily get him back under control by asking him to do what I need him to do. I love that we can go outside now and walk in public calmly and that we can have fun together…learning tricks, come, sit, stay, etc. No more "boring" walks that feel like chore! We can enjoy each other so much MORE now (if that's even possible) which is a benefit I ever thought of! ⁣
⁣
I'm completely in shock and THRILLED with the results. Worth every single penny. I'd do it again in a heartbeat. THANK YOU GABBY AND JULIE'S K9 ACADEMY!!! You have a client for LIFE! XO⁣
Capone "Pony"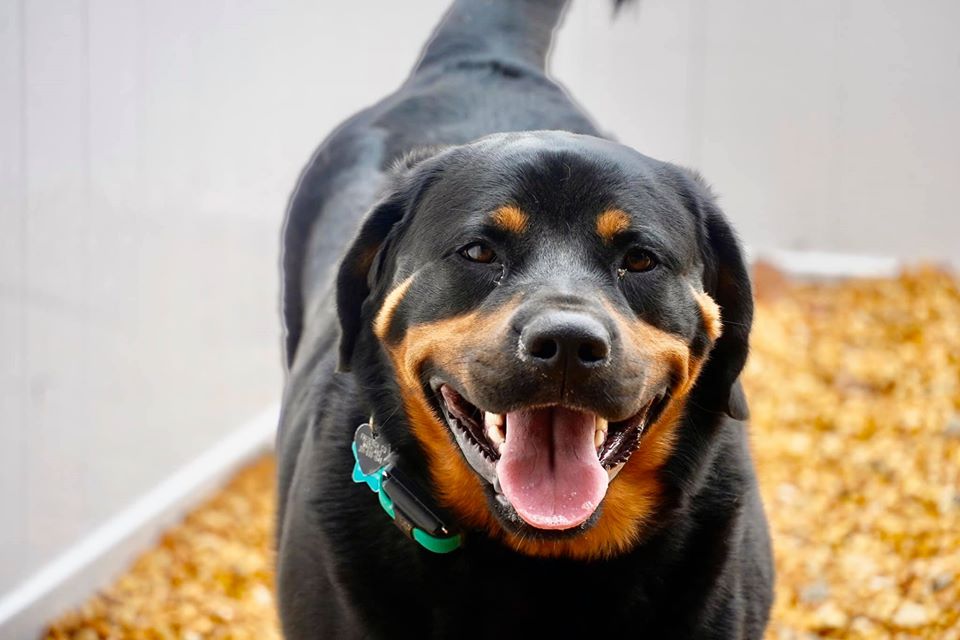 Capone was a dog that we had no intention of keeping, His owner was on Facebook looking for a home for him. After days of no interest, he was soon going to be taken to an animal shelter. We decided to take him in to help get him into a foster home and hopefully a loving home soon after. But we soon found that Capone had behavioral issues that made him difficult to adopt out. Extreme collar sensitivity, horrible pulling on a leash, full speed ahead all the time, inability to be calm, constant pacing. We were at a loss with what to do with him. I happened to see a thank you to Julie in the comments of a rescue dogs happy story and immediately viewed her facebook page to find out more. I was so impressed with what I saw, and immediately reached out. Julie didn't have availability right away, so we patiently counted down the appx. 93 days until she could take Capone in for training. Capones time with Julie was wonderful for us. We knew that he was being treated like one of their own. He lived inside their home with them and was loved while being taught manners. It was wonderful to receive updates, and see the videos of his training, off leash walks and play time with other pups. Since Capone has come home we're now able to take him on walks at a farm off leash around horses, cows, etc (which he used to desperately try to chase). We can also comfortably walk him on his leash around people and other dogs without being drug towards them. And amazingly we are able to put him in his "place" when at home which allows us to have some peace from his high energy.
While Capone will always be Capone, full of energy and the attention span of a squirrel, it's wonderful to have the ability to ask him to be quiet and calm and see him listen. Julie has remained caring and compassionate and available since Capone has come home. It's good to know that we still have the ability to reach out with questions. I would highly recommend Julie and Josh to train your pup.
Katrina Hallein
Capone's Owner
Kobuk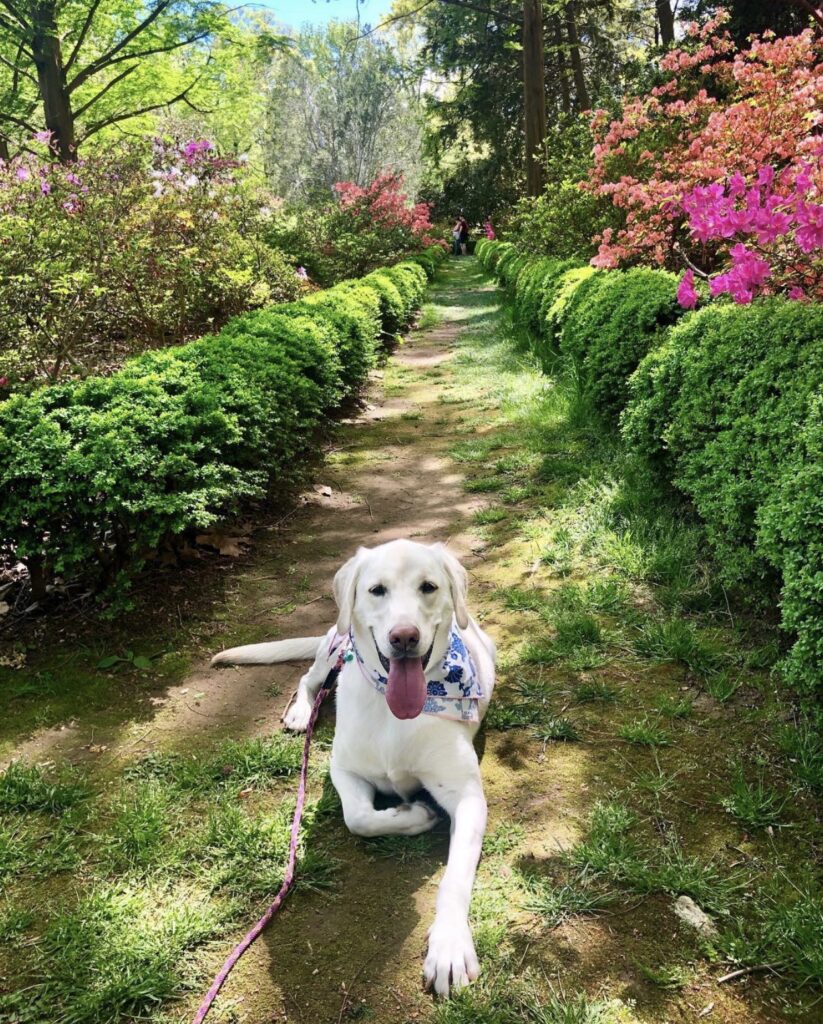 Julie and Josh changed our lives!
Our 2 year old yellow lab did Julie and Josh's 3 week board and train about a month ago. Kobuk had tons of anxieties, leash reactivity, and stubbornness.
Needless to say I was very anxious to leave her, but we had basically tried everything. Positive training, treats, exercise you name it. Julie and Josh really worked with us to determine our goals for Kobuk, and then transferred her skills to us. They are very responsive to emails and always keep you up to date on what your pup is up to. I truly appreciated all the work they did to keep me in the loop on how she was doing. Julie and Josh very obviously love not only their dog but my dog too. Over the three weeks she was with Julie and Josh I watched Kobuk blossom into the dog we always wanted. I had't quite realized until recently all of the ways Koko's behavior had changed the way we lived- from constantly surveying the sidewalk to look for triggers, to having a white noise machine by the front windows and never opening the blinds (our window also had opaque sheeting on them we had to add), to constantly carrying around slimy bags of high value treats. Since Kobuk has come home, she is a completely different dog. We go for long off leash walks. She listens to every command. She doesn't bother us at meals or bark at the windows. She doesn't need hours of exercise to be calm anymore. We can now work from home without being disrupted constantly.
Kobuk can now:
-Stay in place while we quickly step out of our apartment or take a shower
-Pick up packages at the front desk WITH her in down stay
-Get pets from the concierge, and no longer bark at the staff but puts herself in down and awaits instruction from us
-Heel off leash 30+ minutes and can recall perfectly even with distractions
-Heel to me when she's feeling anxious/stressed, instead of lunging, barking or growling
-Can walk past another leash reactive dog without distraction
-Walk past the school bus stop/ running kids with no reaction.
-Can be calm if we are standing on the side walk talking to strangers with other dogs
-No begging for food during meals!
-Sleeps in her crate and goes there automatically when she's tired.
-No jumping on mom/dad when coming in the door, stays on place
-Rides in the car in down stay and no longer jumps at the window or barks at construction workers.
-She is WAY more affectionate, which we love.
-She is so much happier in her day to day life 🙂
Julie and Josh are the reason why the anxiety level has drastically dropped in our house. I would happily pay their fee (and even more) again, they are 1000x worth it. I hope you take the time to work with them and choose to trust in them— they will change your dog and your life.
Katie, Chris, and Kobuk
Katie and Chris
Koko's Owners
Jax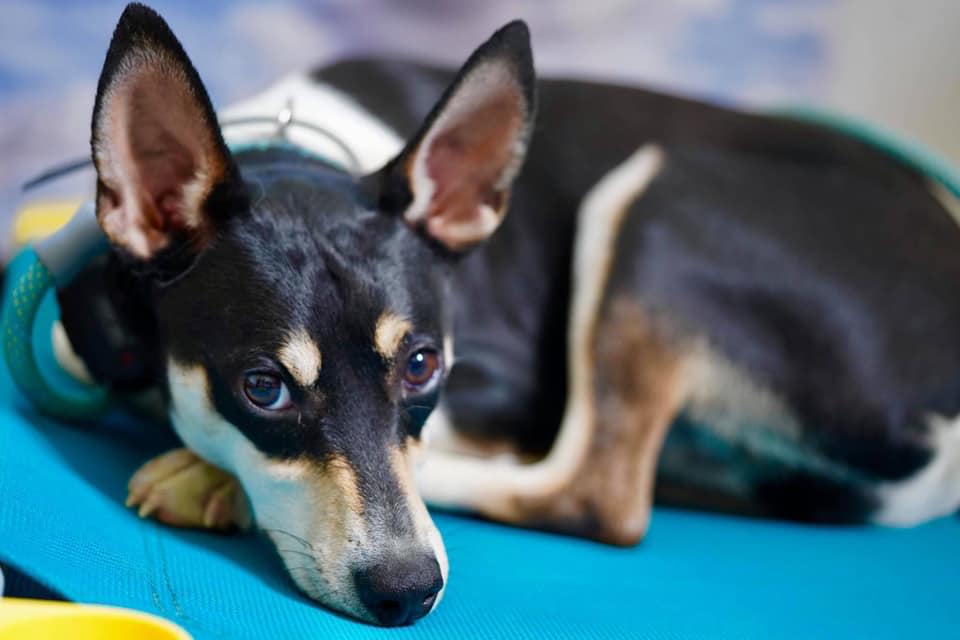 My dog Jax went through Julie's Board and Train at the end of August.
Before training – I never wanted to go home after work. I was already exhausted and knew the minute I walked in the door I would be dealing with an anxious, hyper, rambunctious, needy dog that I could not control. I literally hated weekends because it meant I had to "keep him busy" and find things to do or he would be a terror in the house. Pulling on the curtains, chewing up the carpet, chewing on furniture, urinating in my bed, chewing on computer cords and pulling the entire time while we were on a walk. I couldn't even read a book because this was the neediest dog I had ever met. When I wasn't playing with him, he would do something bad to get my attention. This was supposed to be my dog that went everywhere with me. Weekend trips to visit family, hiking, fun dog events, etc. Unfortunately this didn't happen. He would get car sick. I tried everything to help it and nothing worked! Honestly the next move was to find a new home for him because I thought he wasn't happy and needed a farm to run around on.
After training – I can't wait to get home after work now. He enjoys and craves direction and leadership. He looks to me for guidance. No more chewing on anything, or pulling on curtains because life is now about being calm. Shortly after training we had a smell in our condo and needed to evacuate. I took him outside and while there were lots of firefighters, trucks and commotion, he directed his attention to me and knew what I expected of him. I never knew how incredible the bond could really be between human and dog until after training. Julie and Josh are the best and they really care about each individual dog. This year I get to visit family for a week over Christmas, and they want Jax to come too because he is so well behaved! He now travels everywhere with me! Permission based training has worked so well. I highly recommend Julie's K9 Academy. It was the best investment I could have ever made in my dogs life.
Quinn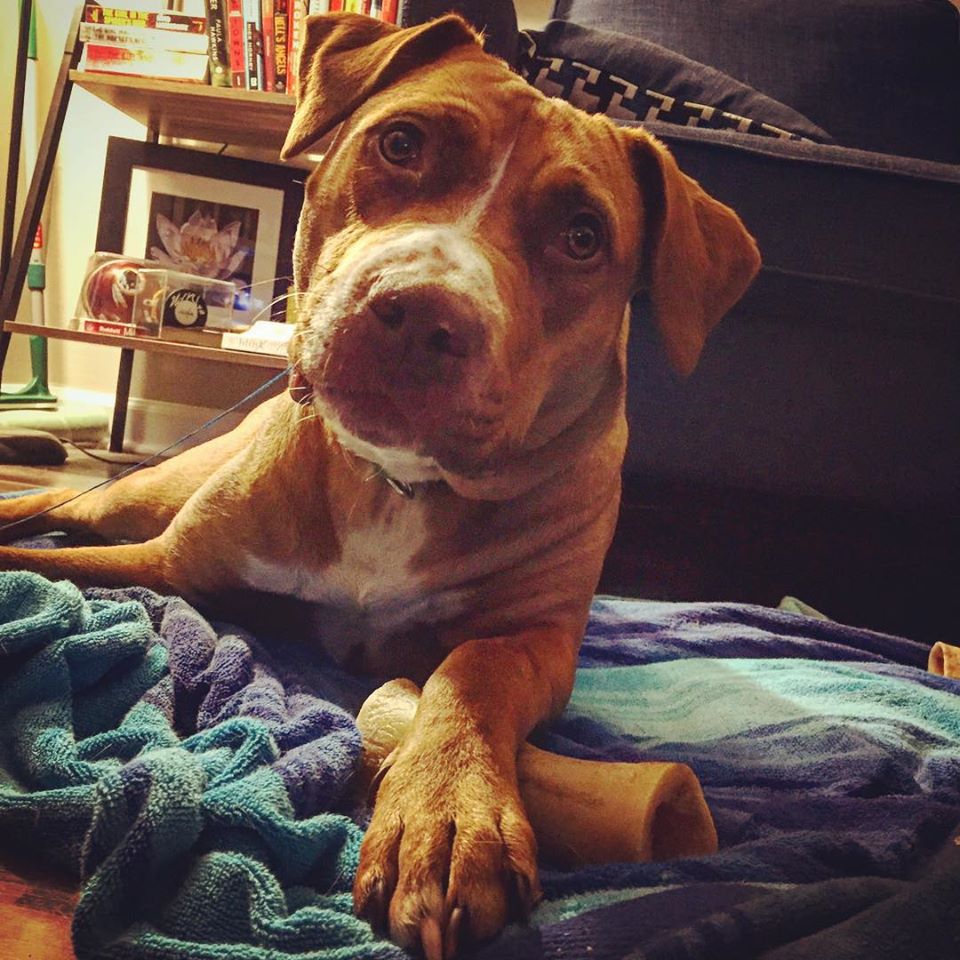 I adopted my sweet, 70 pound pit bull girl, Quinn, in March. She had a lot of issues with pulling on the lead with the techs at the shelter. While I seemed to have more control over her, she was still pulling a lot on her front buckle harness and Martingale collar. She definitely did not care about heeling. Trying to train her to heel on the harness had me in tears more than once. And LORD, the alligator rolling!! The last straw for me was when she alligator rolled in the middle of Market Street while we were crossing. (You may remember the video of my little rascal and her ridiculous rolling from back in April. Haha)
As soon as I got home, I texted Julie (how lucky am I that Julie's a personal friend!?), "HALP!" I went over for a private lesson the next evening to train Quinn on the prong collar. And, I'm telling you, it was night and day in just the short time we were there. My girl really does want to please me, but she just didn't have the right tools, and so we weren't able to communicate effectively!! Julie introduced her (and me, of course!) to the proper use of the prong collar in the training room, I took over holding the leash, then we did some walking outside, and I'll be darned if she wasn't heeling!
The prong collar is a great tool for, as Julie says, reminding your dog "Hey! There's a person on the other end of this leash." She's still not perfect, as we only had a little snippet of Julie's training magic… BUT, I have not had one issue with her alligator rolling since we started using the prong collar. And walks are much, much more pleasant for both of us!
We couldn't have done it without Julie! I'm so glad I decided to ask for help that day. 🙂
Maggie Jordan
Quinn's Owner