Jake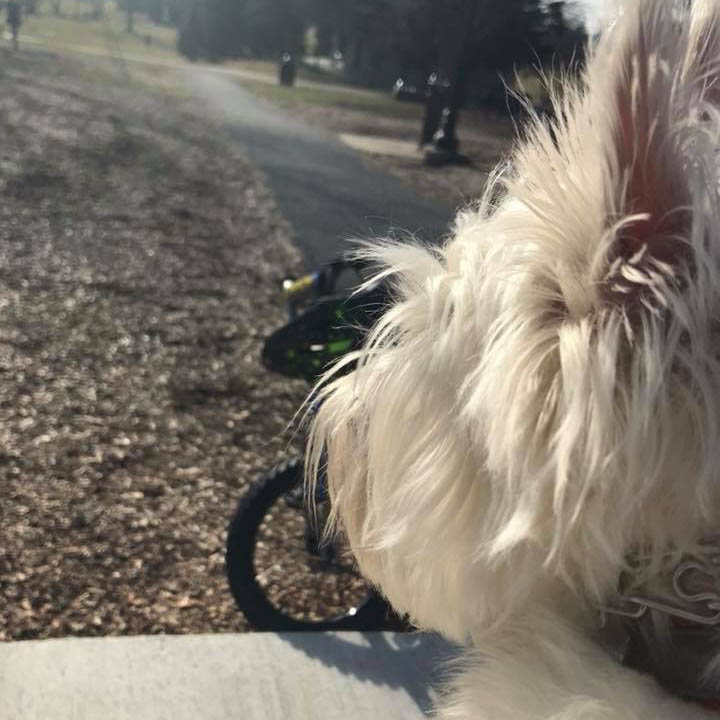 Julie was such a great help with our dog Jake. Jake is a 7 year old rescued pup, 15 pounds of frantic excitement. He's a West Highland Terrier and was never really trained, especially on a leash. He pulled, zigzagged erratically along the sidewalk, sniffing everywhere and marking everything. He's very friendly and dog submissive, so I never worried about him being aggressive with children or other dogs. I did, however, worry about him tripping me and others with his uncontrolled excitement. I had been using a harness during walks since he constantly choked from pulling on the flat buckle collar. But the harness just encouraged him to pull harder. He was definitely out of control and I really disliked walking him. Julie "borrowed" him one afternoon and immediately figured out how to solve our problem. With the correct training collar and a simple, easy to follow lesson plan from Julie, I can now successfully walk Jake down the busy sidewalk. People, cars, other dogs, all previously dreaded distractions are now easily dealt with. He stays right by my side, with his wagging tail straight up in the air, a happy and cheery fellow. Thank you Julie, for teaching both Jake and me how enjoyable it is to walk around downtown Frederick with your dog. Highly recommended!
Kerry Cummings
Jake's Owner
Fox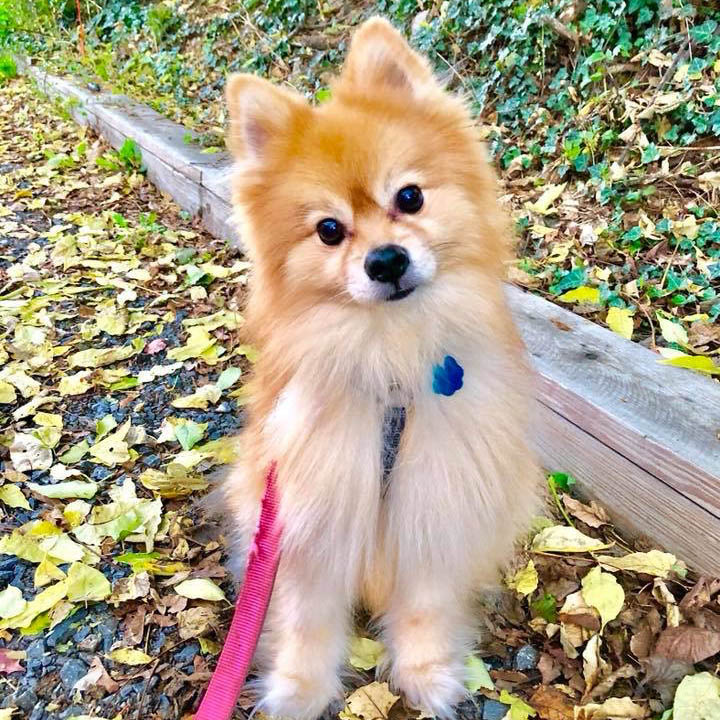 You can try to do the research about all the quick fixes, coddle your dog, blame the breed for bad behavior and give up and just feel held hostage by your anxious little trouble-maker of a dog. Or, you can hire a professional for some real results.
For years I just figured Fox was just anxious because he's a rescue and I'm the third owner and engineered walks so that all interactions with other dogs and people were minimized. I'd turn the other way if someone was coming or start jogging if another dog was in earshot.
Julie took Fox for a private lesson last week and was able to have him heel on walks in one brief session. After practicing her methods, Fox has now maintained composure and resisted pulling the leash on walks. Last night Julie took him on a walk along the main streets downtown and he was reportedly so quiet she had to look down to make sure he was still there.
I'm very impressed with the work done so far and it makes me so much less anxious not having to apologize for my dog's bad behavior all the time. The next thing we're going to work on is place command and if it's anything like the last two lessons, it'll be a breeze. Thank you, Julie!
Mike Muszynski
Fox's Owner
Scout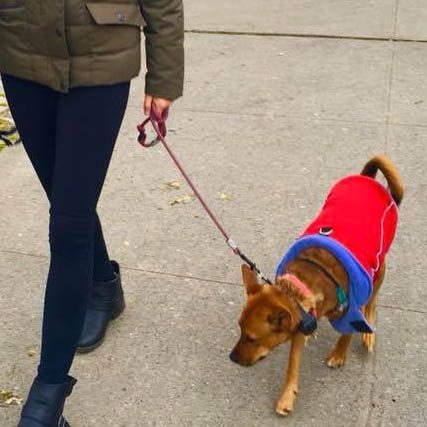 Julie changed our lives — that's not an exaggeration. Our dog, Scout, is a rescue and is the most excited dog in the world (to us). She's also the best, but we had major issues with leash reactivity as she would go nuts over other dogs she saw on the street. She also pulled so much! It made walks unpleasant, for everyone. After speaking with Julie, we learned more about what the issues were, where they came from, and how to address them with Scout. We came up with a plan and it's been revolutionary. Scout is still nuts (in the best way), but our walks are now controlled, productive and totally enjoyable! Julie is knowledgable, compassionate, and wonderful to work with. We have plans to send Scout to MD for a Board and Train asap!
Jessica Griffiths
Scout's Owner
Indy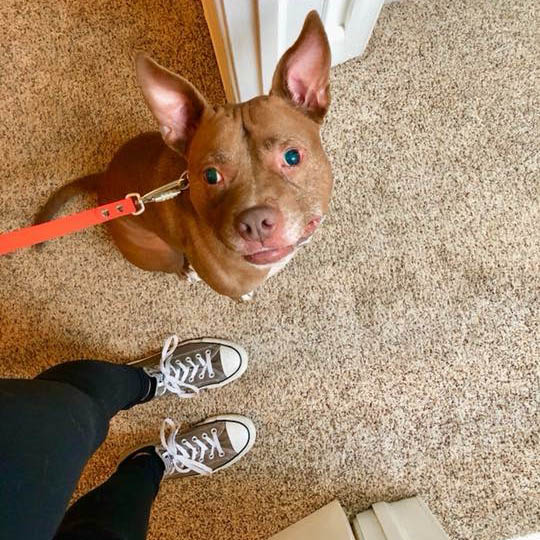 We came to Julie looking for help with leash behavior; our dog, Indy, seemed to want to behave on walks, but we could never seem to communicate to him what "behaving" really meant. Julie worked with Indy and then with us to help bridge that communications gap, and we couldn't be happier with the results! We've gone from risking actual injury when walking an overexcitable dog (and therefore skipping walks more frequently than anyone, dog or human, would have preferred) to pleasant, structured walks. We'd worked with other trainers in the past who got us 75% of the way there, and then just chalked that last 25% up to individual dog personality & excitability… Julie was the first person we worked with who really listened to the WHOLE story, understood why fixing that last 25% was crucial to a happy, healthy dog, and gave us the tools and human training we needed to start to get there. My only complaint is that we didn't reach out for help sooner!!
Kerry McHugh
Indy's Owner
Hannibal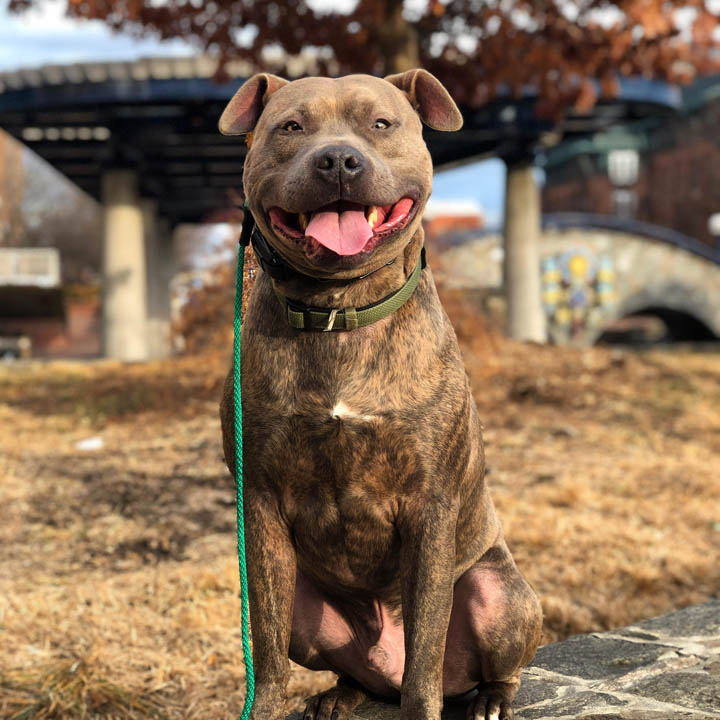 At the risk of sounding cliché, Julie has truly changed our lives. Within a few weeks of rescuing Hannibal, I was questioning my decision. Hannibal was completely out of our control. He jumped on furniture and people (at 90lbs), barked at us whenever he disagreed with us, dragged us on walks, and lashed out in a horrifying rage at any dog he saw on walks. I came home from several walks in literal tears because I was afraid of what I saw and depressed at the idea of spending the next 10+ years being bullied by my dog. We sought out help, but weekly training classes were not cutting it; he was learning obedience skills but not stopping any of the awful behavior. Hannibal even started spitting out his reward treats in defiance. Hannibal has been home for 3 weeks from his board and train with Julie. He is like a different dog. The same goober personality I fell in love with is there, but now he is consistently obedient and calm on command. I have a dog I can let off-leash for fun and actually take into public; the companion I originally sought out.
Hannibal was aptly labeled a "diamond in the ruff" at the shelter due to his behavior. Julie polished him, but more importantly, she taught us the skills to keep him shining beautifully.
Ashley Cole
Hannibal's Owner