Odin
Julie's K9 Academy has helped achieve peace in our home, on walks, and out in public. Instead of wanting to not be around our dog ( I know, it sounds awful ) we can't wait to get home from work or school and take him wherever we go. Not knowing how to channel or calm his energy was exhausting, and even our young kids say "Whatever you paid for this is worth it! This is like an early Christmas gift" It's like they did a reset on our Odin; he's so well-behaved, thrives off of our direction, and is so much more affectionate than we ever realized. I now recommend balanced training to everyone I know with pets– especially when I see a dog yanking their owner or annoying their guests- it doesn't have to be this way! Some added benefits of the training I didn't expect — my dog now potties in 20 degree weather QUICKLY because I can remind him to stop sniffing around or wanting to dig or play, and refocus his energy to doing his business; being able to remind him to stay calm when small kids are around him and petting him by using a low setting on the e-collar as a reminder to not go crazy — mind you this is a level I cannot even feel on my hand that he responds to; getting him to heel in the home to me instead of running around. Do yourself a favor and get the training sooner than later.
Casey
I sent my dog to Julie & Josh for a 2 week board and train and she ended up needing to stay 3 weeks. My dog is the sweetest girl BUT she was super reactive and had tons of anxiety. During thunderstorms or fireworks, she would tear down my blinds trying to get out of the closed window and even bit me one time because I was holding her collar when a firework went off. Casey has been home for 2 days and I literally want to cry because the change in her is nothing short of remarkable! My house is so much more manageable and last night during a thunderstorm, Casey was able to relax in her crate with very minimal reactivity (only took 1 correction). I tried everything – anxiety medication, noise aversion medication, essential oils, thundershirts – and they only thing that has worked is Julie and Josh changing her overall state of mind. I really can't express how thankful I am to them and highly recommend them!
Liz Brunner
Casey's Owner
Bailey
Julie is sooo knowledable and patient! She has such a calm personality that transfers to those of us that she trains (both dog and owner). After our first session, our house was peaceful and our dog knew her role in the family. Julie is worth every penny, and is super responsive if you have questions. I consider it an investment, and one that does take practice with our dog- but the returns are huge!!! Thanks Julie!!
Katie Silver
Bailey's Owner
Duck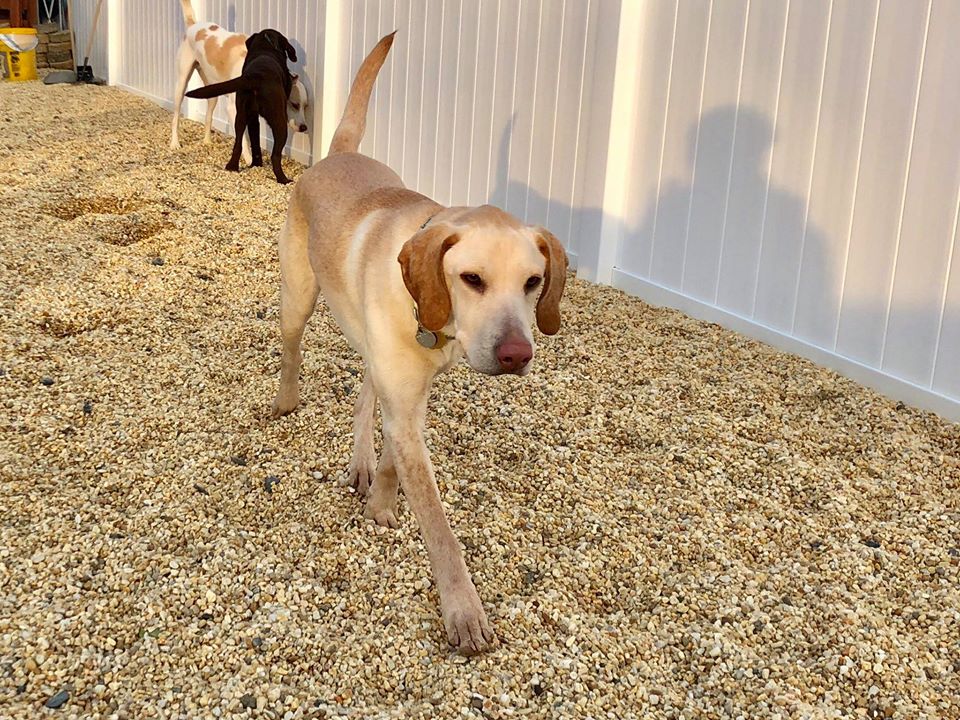 We took our 1 year old lab mix, Duck, to Julie. He was leash aggressive, and destructive at home. Julie's approach to get to know the dog and his family was refreshing. She asked good questions about where we were having issues and met us and our dog where we were. The 2 week train and board was worth its weight in gold. It gave Duck a chance to reset, with a new set of rules and it also gave us a chance to reset as well. It was really helpful to have the go home session with Julie and even better than our 2 kids were invited as they are part of the family. Julie will help you get your dog where you need them to be, but you have to be ready to carry over the new learned skills at home for long term success. We've been working with Duck since we've been home and he will even listen to the 5 year old who learned the commands at the go home session. Thank you Julie! A Julie trained dog is a happy dog and a happy home.
Dora
We cannot say enough good things about Julie and her board and train!!!! Our dog, Dora, is an 8 year old catahoula mix that we adopted from a rescue 2 years ago. We don't know anything about her past but Dora's never been a bad dog but she was just stubborn, a counter surfer, triggered by other animals on walks, inconsistent following commands and wasn't properly socialized with other dogs. But even more importantly we needed to give her the tools to successfully handle a newborn baby in the house and a cross country move (3 days of driving with a 6 week old newborn) to Colorado. Plus we wanted to be able to trust her off leash hiking. After the board and train with Julie, Dora has been a dream. We can trust walking her with the stroller, the duration of the place command has been invaluable with all packing/unpacking for the move and tummy time for the baby. Plus she met my cousin's dog without any issue. She still has moments but with the training from Julie we now have the tools we need to handle all the changes and stresses of life with the best dog possible . We definitely recommend it, I have already referred my coworker for her two pups!